Greetings Busker-lings – we have re-entered from CULTRA orbit until February 16 and we have a wealth of exciting events for you this weekend. There are so many choice offerings it's insane! Don't worry, it'll be OK. Just turn your brains off and let us filter the world for you.
Thursday, January 26 
Baby Bear Lo-Fi w/ Special Guests, 7:30 – 12pm at the Wynwood Yard
Performances from the Fortune Tellers, Lone Wolf OMB, Ryan Carney AND Baby Bear?! Under the stars at our favorite Wynwood spot?? With delicious food and drinks close at hand??? Does it cost $1,000,000???? Nope. Free.
Friday, January 27
Miami Symphony Orchestra Pop-Up in the Design District, 5-8pm
Ditch your typical Friday happy hour and head to the ritziest neighborhood West of Biscayne Blvd. for a FREE show from Miami's hometown professional orchestra. Mix with millionaires and/or pretend to be one for some beautiful tunes by Tchaikovsky, Brahms, Strauss and more. And apparently there will be a 100-member choir? Heavenly sounds, indeed.
Speakfridays, 8pm at the Lightbox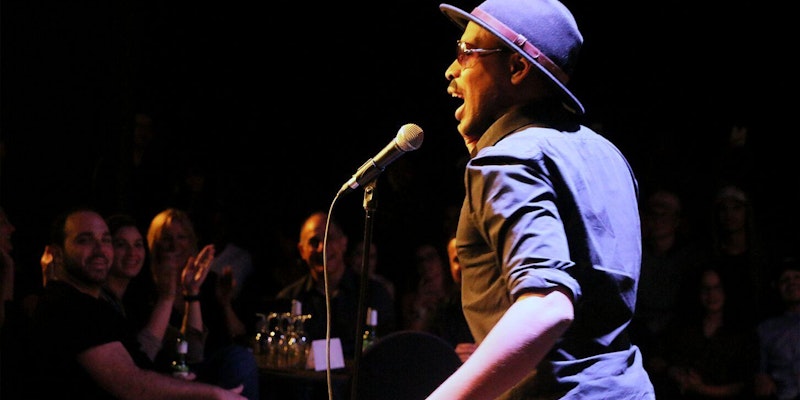 Speakfridays, Miami's most diverse open mic (and future CULTRA partner), returns to Miami Light Project this Friday. Expect compelling performances from prominent comedians, musicians and more as they explore the topic of "Awareness." A mere $15 gets you in the door and there's a cash bar to help keep you going from the MISO performance earlier.
Saturday, January 28
Artistic Vibes presents ReVerb – Change, 8:30-11:30pm
Our beloved brothers and sisters from Artistic Vibes bring you ReVerb – Change, a multidisciplinary extravaganza featuring a mix of poetry and music (and a set by CULTRA 1 favorite Panda-Rama). Go see them in their home in South Miami and enjoy good art, great people and memorable times. $10 advance tickets and $15 at the door.
F+M Festival, 2pm at the North Beach Bandshell 
Our friends from Poplife are throwing a two-day fest featuring some truly big names like Hot Chip, Bomba Estéreo, Ghostface Killah, Jacuzzi Boys, Mr. Pauer etc etc etc. Not only do you get great music, but they've rounded up some of Miami's best restaurants and chefs to offer a multitude of cuisines and goodies. Heard of Ariete? How bout Azucar? Fooq's? Coyo Taco? For the first time, you can have them all simultaneously! Put it in a blender and drink it down! Not only do you get great food, but bar staff from joints like Pawn Broker, Gramps and Craft Social Club will be mixing it up.
Bonus Round: Use promo code "BUSKER" for 10% off single and 2-day admission!
Sunday, January 29
South Florida Folk Festival, 12-7pm at Hugh Taylor Birch State Park
We love us some folk and bluegrass at Buskerfest. But, when it's staged in a beautiful park and includes 45 musicians from across the country, it's damn irresistible. For a very reasonable $65 – 35, you can enjoy up to two full days (Saturday and Sunday) of music and celebration around America's original sounds and culture. Of course, the Rambling String Band and Sunshine Stompers will be repping South Florida right!
Feast this weekend, kids. There's no reason not to. Catch you on the flipside!
Much Love,
The Buskerfest Team